Online training for 5 employees
We Card's award-winning interactive eLearning Employee Training Course
Learn More

Training & Signage Tool Kit
Compliance checklist, calendar, decals and more.
Learn More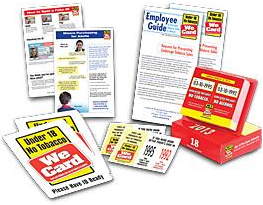 Training & Signage Tool Kit includes
A management tool for store managers.
Provides the "Born After This Date? NO TOBACCO" date for every day of the year. Cashiers use it for comparing a customers ID to determine whether to legally sell or properly deny a sale to the customer.
Displays the last birth year a customers ID must show in order to legally buy tobacco. If the customer was born after the current day of the year shown on the sticker, no tobacco sale should be made.
Alerts customers to "Please Have ID Ready."
For spotting fake IDs and handling adult purchases for minors.
Close